Professional Mobile Marketing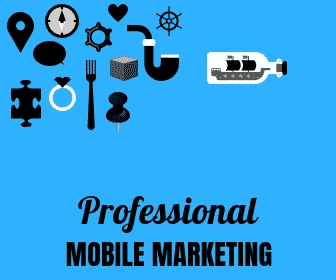 What is Professional Mobile Marketing?
Mobile marketing is a set of marketing practices that allow companies to connect and communicate with their audience in a relevant, interactive, engaging way through mobile networks.
For local hometown businesses, mobile tactics, when used correctly, easily bring business through the door. For larger national companies, mobile adds another layer to other digital marketing efforts, and stimulate traditional media.
How will mobile work for your businesses? Creatively!
Isn't Mobile Advertising Mobile Marketing
Mobile advertising by itself is not mobile marketing but is a subset of mobile marketing. Mobile marketing and mobile advertising are not synonymous.
A mobile marketing plan may include mobile advertising, but mobile marketing as a practice reaches much further than simple advertising, and this is where creativity comes in to play.
What Are Some Mobile Opportunities
Mobile marketing is used to sell products, engage with an audience, inform an audience, promote events, and for loyalty programs.
At the same time, the use of mobile marketing is still in its infancy and opportunities abound for those who take the time to think up strategy and build plans that include mobile.
What Are People Doing On Mobile
First, mobile use has now surpassed desktop/laptop use meaning, almost everything that someone did on a desktop/laptop, they are now also doing on mobile devices and, this makes mobile an essential part of the marketing mix.
Your audience is using mobile and ignoring this, is to lose the opportunity, and provide a competitive advantage to competitors that do use mobile in their mix.
That said, here is a list of the most popular activities on mobile:
Texting
Sharing Pics
Browsing the Web
Scanning QR Codes
Clicking on Ads
Checking out Augmented Reality
The challenge then is to creatively think of ways to include mobile into your marketing mix; and, make that a priority as mobile does belong in the marketing mix due to the ROI it has proven to produce when planned well!
Questions on Mobile Marketing Call David