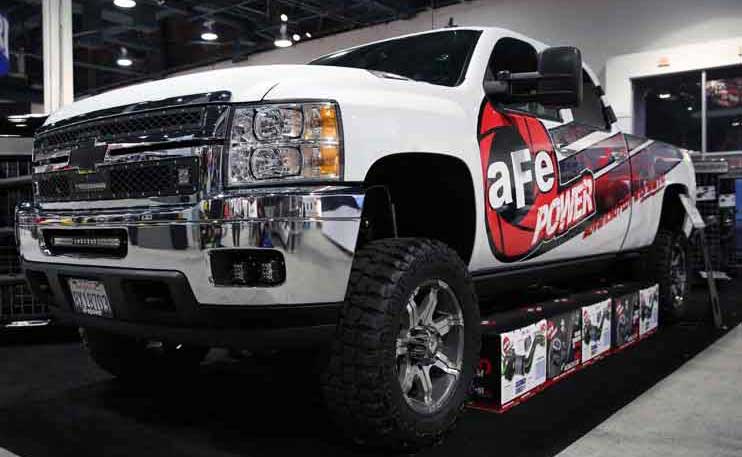 In the bustling landscape of the American aftermarket parts industry, there emerged a new contender: Advanced FLOW Engineering.
As a manufacturer of top-tier, high-performance components for trucks, cars, and various off-road vehicles, aFe Power represents a commitment to superior quality and they needed a way to build the brand and generate sales.
aFe Power had researched paid media and approached me with the objective of generating revenue using online advertising. As a highly skilled paid media advertising expert I took the challenge on and devised a strategy for a profitable advertising program.
After careful consideration, I proposed a full-funnel multi-channel  Facebook/Instagram/Email marketing campaign, that included audience building, conversion ads, retargeting campaigns and email marketing.
The Solution
Build brand awareness and vehicle-specific remarketing audiences for aFe's most popular vehicles using inexpensive vehicle-specific video campaigns on Facebook and Instagram.
Use vehicle-specific remarketing audiences for email listing building offering discounts and a chance to win $500 in vehicle-specific credit in monthly drawings in exchange for signing up to an aFe VIP email list.
Use vehicle-specific remarketing audiences for Facebook/Instagram conversion advertising using carousel ads highlighting the best-selling products for each vehicle.
Advertising Process Model
We started with vehicle-specific awareness video campaigns that used broad targeting to build audience segments. From there we retarded these people with a list-building campaign offering them the opportunity to sign up for aFe Power's vehicle-specific VIP email marketing list and the opportunity to participate in the monthly raffles for their vehicle with a chance to win money and parts. This campaign fed the email lists for each vehicle for free due to sale generated by the campaign which was then used for vehicle-specific email marketing, aFe Power's most profitable channel. Once people signed up for the email list they were provided a link to aFe Power's site where they could view products for their vehicle where we provided them with the best sellers and this generated impressive sales as well. At the same time, we used these same audiences to retarget people with vehicle-specific carousels ads which also generated impressive sales. .
The Results
Brand Awareness and Audience Building
Using Facebook Video awareness ads, 25,028 people were added to the various vehicle-specific audiences for only .01 cents each, for a total spend of $271.84.

Email List Building Campaign
Utilizing vehicle-specific retargeting audiences, we strategically curated email lists at a cost-effective rate of $2.38 per individual via Facebook/Instagram lead ads. The campaign also generated an impressive 1017% Return on Ad Spend (ROAS), encouraging individuals to explore the range of components for their vehicles on aFe Power's website upon submission. This proposition proved irresistible to most. Consequently, we were able to bolster their email marketing channel without incurring additional costs, simultaneously reaping substantial profits.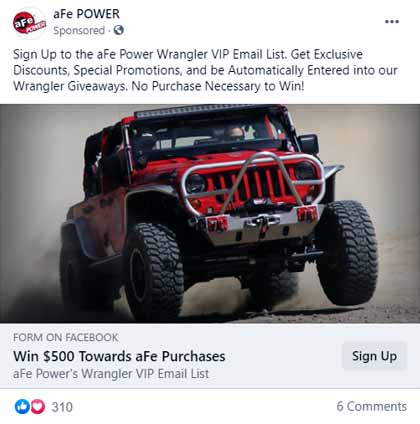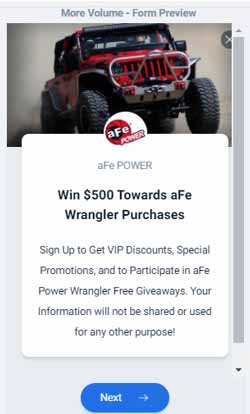 Carousel Ads
Using the vehicle-specific audience segmentations, we tailored carousel ads that showed aFe Power's best sellers for each vehicle. The resulting return on advertising spend for this campaign was 9834% which was exceptionally impressive, signifying the effectiveness of our strategic approach.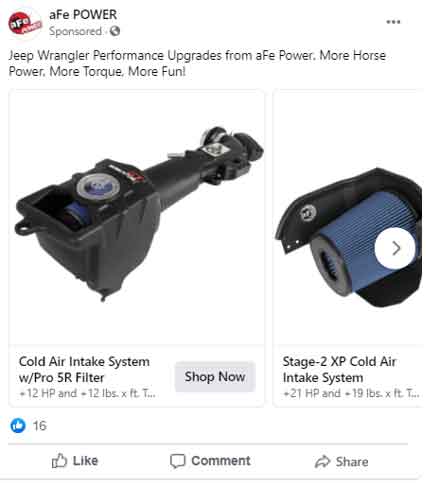 30-Day Testing Results
The exceptional performance of this campaign over a 30-day period was a staggering 1901%, serving as irrefutable evidence of its success. As a result, the company decided to implement this approach across all their top-performing vehicles, further expanding their achievements.
2020 Business of the Year
aFe Power had an outstanding year in 2020, earning them the prestigious title of Business of the Year by the Corona, CA Chamber of Commerce. Congratulations to aFe on this well-deserved achievement. It was an honor to be a part of your journey towards success.