Professional Content Marketing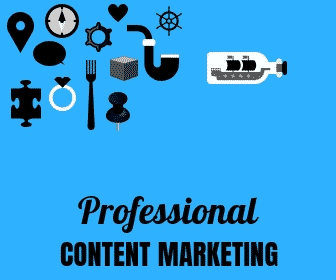 When it comes to building out your earned and owned channels to drive micro and macro KPIs aimed at achieving business objectives, content marketing is powerful!
Content marketing is the process of filling identified channels, outside of paid, with valuable, relevant, exciting and professional level pieces of information that produce popularity, and create engagement, economic value, and profit for your business.
Content marketing is about adding value to people's lives and do it in a way that leads back to your business whether directly, or indirectly through links. It's about the theory of reciprocity!
Isn't this Just Social Media Marketing?
Social Media marketing is a subset of content marketing, but, content marketing spans across more than just social media channels, both online and offline.
Content marketing creates an orbit around your site, your reputation, and pulls people into your funnels. And, it can have a dramatic impact on SEO results.
Content Marketing Tactics
Content marketing includes many different tactics, some work best with B2C, while others work best with B2B. Take a look at the chart below to get an idea of what tactics you might want to engage.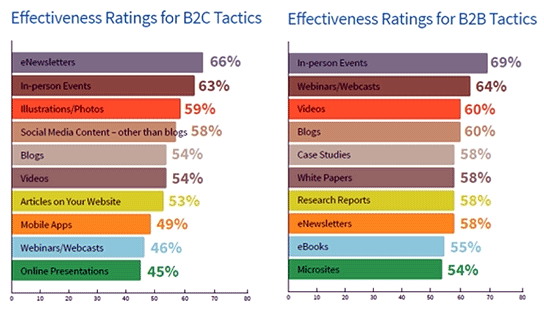 The Six to Two Strategy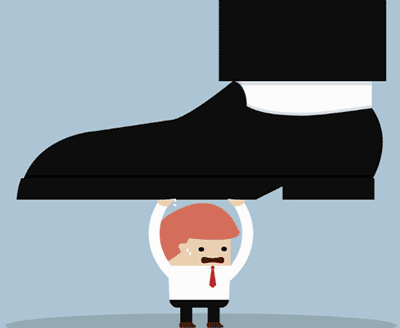 Imagine your competitor executing six of the tactics listed above, while you are only running two.
All things being equal, the company engaged in six tactics is going to crush the company using only two, and this is the power of content marketing.
You have to do it to survive. Content marketing is just a part of internet business nowadays, and if ignored, a competitor can stomp out your growth YoY growth.
Many companies will have a few people as their resident experts, and then have others create content for them, that they can then put their name on. This approach allows a company to put out massive amounts of material very quickly with impact.
Content Marketings Underlying Message
All content marketing should deliver an underlying message that builds rapport with your targeted audience. It should be part of a plan, and all work together toward the same goals, both tangible and intangible.
It should not be independent pieces of information separate from each other that only educate, or entertain. Instead, it should take memory space and add economic value to your business.
Overall, your content should develop two-way communication channels and strengthen relationships; and finally, help people make better decisions and improve lives.
If you can do that, the theory of reciprocity will kick in, as will the rewards!
You Need A Content Marketing Plan
If you want to create the most significant impact with your content marketing, not only do you want to measure the economic value of each piece, you need to have a plan.
Many companies don't have a content marketing plan. They shoot from the hip and hope for the best. Hoping for the best can produce some good results, but it will never produce the best results.
Create a plan, and you'll have a significant advantage over a majority of the companies engaging in the content marketing, and you'll be doing the stomping out!
Questions on Content Marketing Call David