Paid Media Advertising
Build Your Brand
Create Awareness
Stimulate Consideration
Generate Leads
Build Audiences & Email Lists
Make Sales
Complement Holistic Digital Strategies
Dominate Your Competitors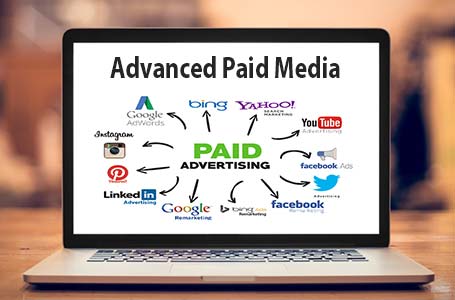 The Goal of Paid Media
The goal of paid media advertising is not to push your products/services on people but to provide answers that help them make good decisions.
By understanding user behavior along the customer journey, paid media ceases to be advertising and instead becomes the information people are interested in, when they are interested, in the place they are at,  which then helps them feel comfortable enough to do business with you.
Helping people with paid media instead of advertising to them is the best way for your company to ensure high conversion rates and strong business growth.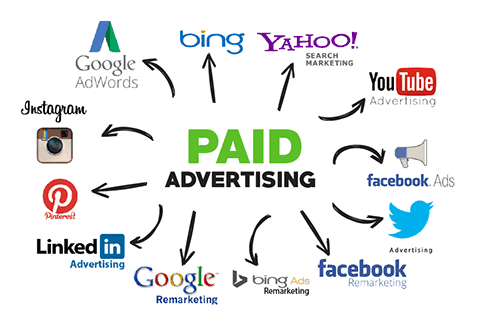 Which Paid Media Channels
Google Ads (AdWords)
Facebook / Instagram Ads
YouTube Ads
Microsoft Ads (Bing & Yahoo)
LinkedIn Ads
Pinterest Ads
Twitter Ads
Snapchat Ads
Amazon Ads
Which channels is a common question and depends a great deal on your audience's online activity, the complexity of your strategy, and your advertising goals, which are different for each company.
Google Ads and Facebook/Instagram Ads are the gorillas, but a paid media strategy can easily branch into other channels especially when thresholds are hit and growth drys up.
If your audience is on a channel, consider running ads on that channel.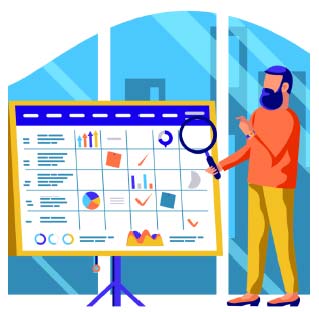 What Makes Paid Media Successful
Success with Paid Media depends on several factors, including;
Account Structure
The Quality of Your Ads
Message Alignment with Emotional Needs (Maslow's Triangle)
Use of Algorithmic Bidding Strategies
Alignment with the Customer Journey
Understanding the Complexity of the Sale
The Length of Your Sales Cycle
The Landing Page, Information Scent & Conversion Momentum
How You Stack Up Against the Competition
The Ease of Success
The ease of success with paid media is greatly determined by what is happening at the bottom of a market's funnel. Some companies are easy; some are not and require a full-funnel strategy. It usually boils down to how much what you are selling costs, competition, and brand recognition.
Compulsive buys, stuff 50.00 dollars or less, can crush it out the door with simple conversion ads if there is a strong market for what you are offering, and that market isn't saturated. Market saturation is like cost; you'll need a full-funnel approach in saturated markets unless you're a recognized brand.
Tactic vs. Full-Funnel
In some markets, especially on Google Ads, a simple bottom-of-the-funnel tactic can perform well; however, conversion thresholds can be reached, making it difficult to grow beyond what the funnel bottom has to offer even with remarketing campaigns. If you've reached that point, then it's time to start thinking about a full-funnel paid media strategy.
A full-funnel Paid Media strategy is made up of multiple channels such as Google Ads, Facebook/Instagram, LinkedIn, Twitter, etc. The goal here is to start at the funnel's top and work your way down with different ads along the customer journey that warm your audience up for your conversion campaigns at the bottom of the funnel.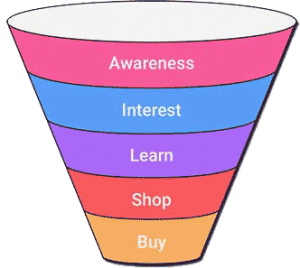 Comprehensive Digital Strategy
Paid Media can also be a part of a more comprehensive multi-channel campaign where paid media is one tactic. This is where it gets exciting and can have a major impact on your business. A proper measurement model is needed for this approach to work, but if set up correctly, data-driven and marketing budget control take on whole new meanings.
The type of approach you'll use will depend on your digital marketing plans' complexity and your ability to measure the success and economic value that the different parts of a strategy add to your bottom line.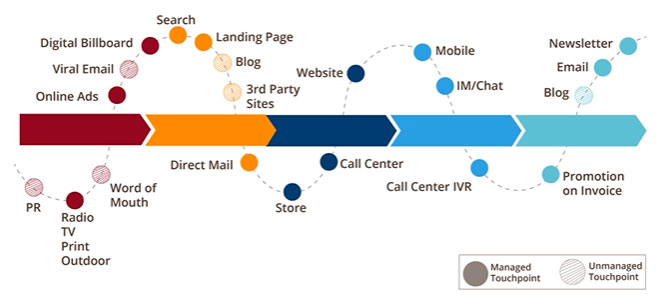 Just for fun, above is an example of a multi-channel campaign that would include Paid Media as one of the campaign's tactics. Ask yourself, where would you place ads along the journey?
How's Your Paid Media Doing?
Do you want better results or need guidance? Get a Paid Media Consultation!
Why Work with David?
Growth Marketing expert that can produce actual results
Google Ads builds that outperform the competition
Analytics that answer business questions that leads to growth
CRO using ReseachXL and Persuasion Architecture frameworks
Profit-Driven SEO that doesn't take months to accomplish
You Want Content Marketing that is game-changing
Facebook/IG Ads optimization that overcomes iOS 14.5 update
AI Facebook/IG Ads management that takes success to new levels
Measurable goal-oriented plan-driven Social Media marketing
You want more control of your marketing budget
You'd find transparency into the customer journey valuable
You're looking for a competitive advantage
You want a marketer dedicated to your success
You want to work with someone trained by the best globally
Recommended by CEOs, CMOs, Best-Selling Authors
Your Information is Kept Confidential & Is Safe