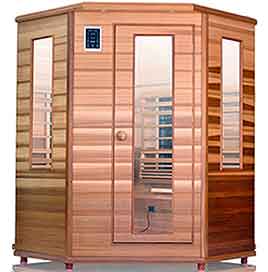 The Company
Health Mate Infrared Saunas is the top manufacture of Infrared Saunas globally and has been in business for over 40-years.
Health Mate invented Infrared Saunas and was the first company to produce and sell them, and they are the only company in the business that owns its own factory, which produces over 2000 infrared saunas a month.
The Problem
Although Health Mate produces the world's best infrared saunas, they are not the market leader and wanted to expand their digital marketing initiatives. At the same time, they were unsure how or where to spend their marketing dollars and asked me for guidance.
I recommended that we start with a Share-of-Voice analysis of the market and their site to understand better what the market's digital landscape looks like and how their site's traffic sources match up.
Share of Voice Overview
This report spans six months. The overview page of the report gleams light into what is happening in the market overall, including channel distribution, sentiment, conversation strength, audience reach, geo activity, and most common keywords used.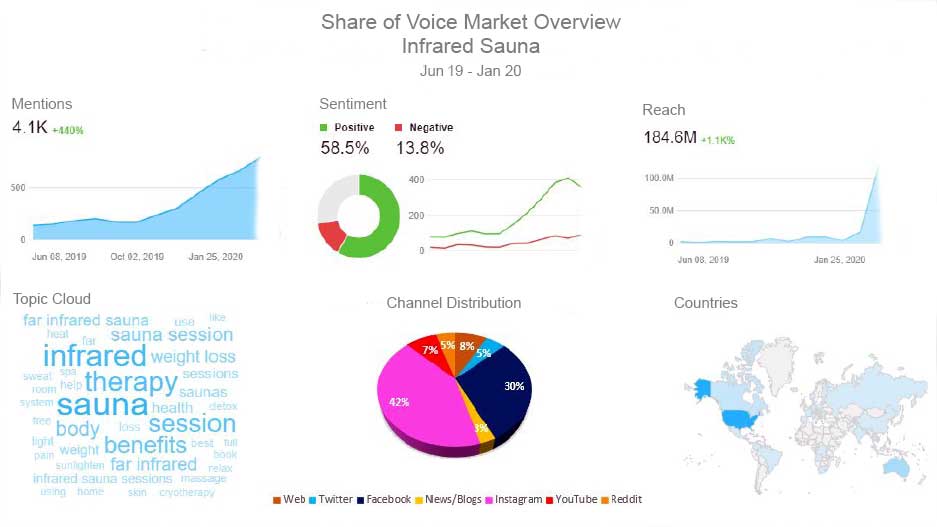 Conversation Activity
The Mentions by Channel report is the next report of this analysis. This report helps with understanding where conversations are happening, the trend of the conversations, i.e., are they growing or receding, and the strength of each channel.
Over the last six months, Instagram and Facebook have had the most activity. At the same time, Reddit is showing strong conversational growth and should be investigated.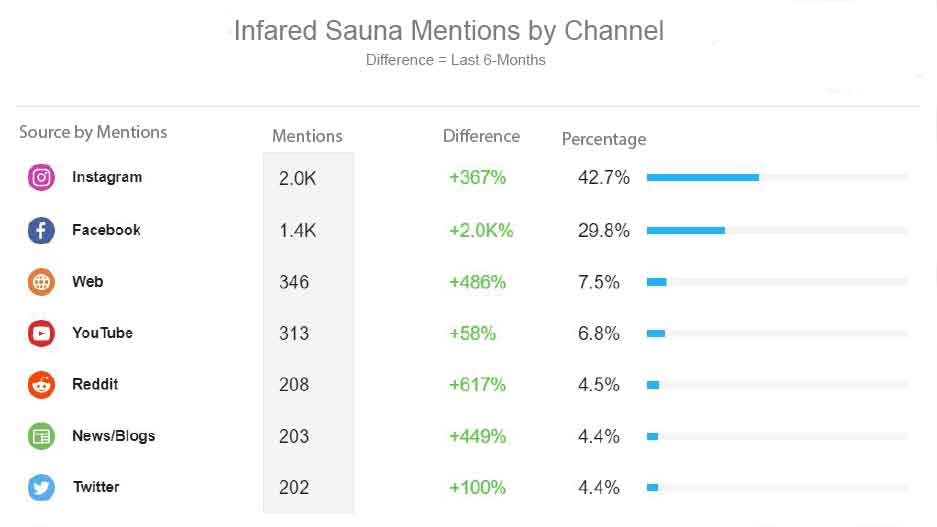 Channel Distribution
This report helps a company understand competitor marketing efforts and gleams light into which channels to focus its marketing efforts.
The bar representing the infrared sauna market uses activity data from the entire market and guides channel strategy.
As you can see from the report, there is considerable activity happening on Instagram, and at the same time, Health Mate is barely touching the channel.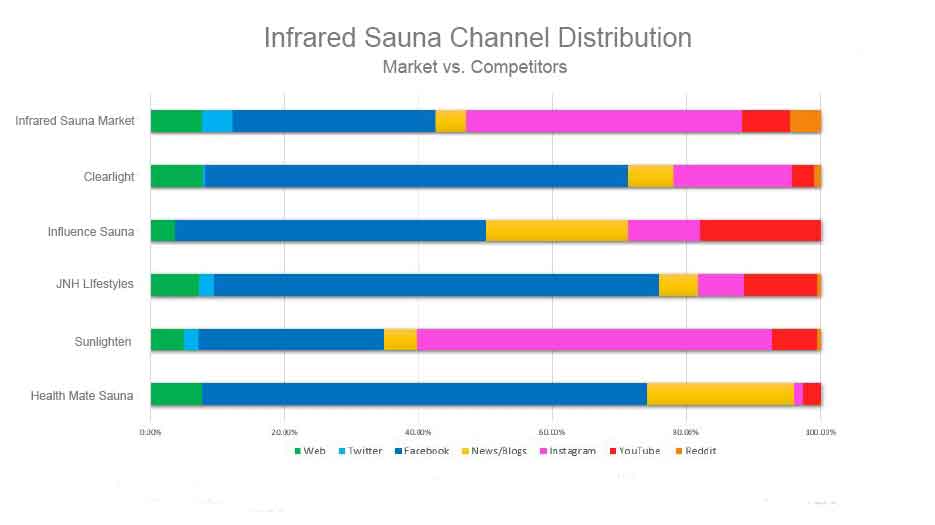 Audience Reach
Next, the audience size by reach report helps a company understand how many people within their market are being reached.
As you can see, Health Mate's reach is limited compared to the leading companies.
This report created a sense of urgency when the Senior Management Team saw it.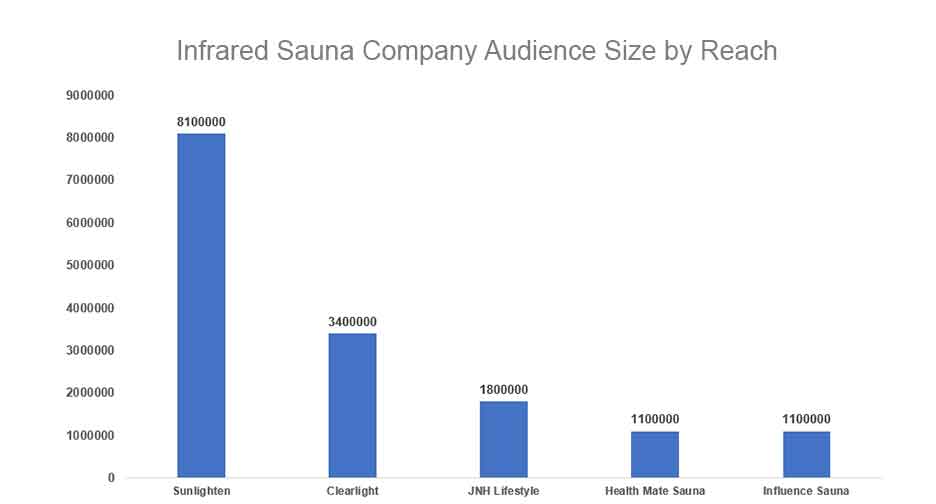 Traffic Acquisition Analysis
This report comes directly from Google's top Digital Marketing Evangelist, Avinash Kaushik, and beautifully shows a website's traffic acquisition sophistication. The recommended mix comes directly from Mr. Kaushik.
As you can see, organic traffic only attributes 19.9% of Health Mates's overall traffic, which is very low. That, combined with Health Mate's lack of audience reach in other channels, as seen in the previous reports, is forcing Health Mate to rely heavily on paid advertising; and that is cutting into Health Mate's profit and limiting them to the bottom of the funnel.
This report demonstrates nicely that Health Mate's traffic is not balanced and highlights the need for search engine optimization and social media marketing.
Without a stronger push in social and organic, Health Mate is likely to see limited growth and continue to struggle to move beyond what they are receiving from their paid efforts.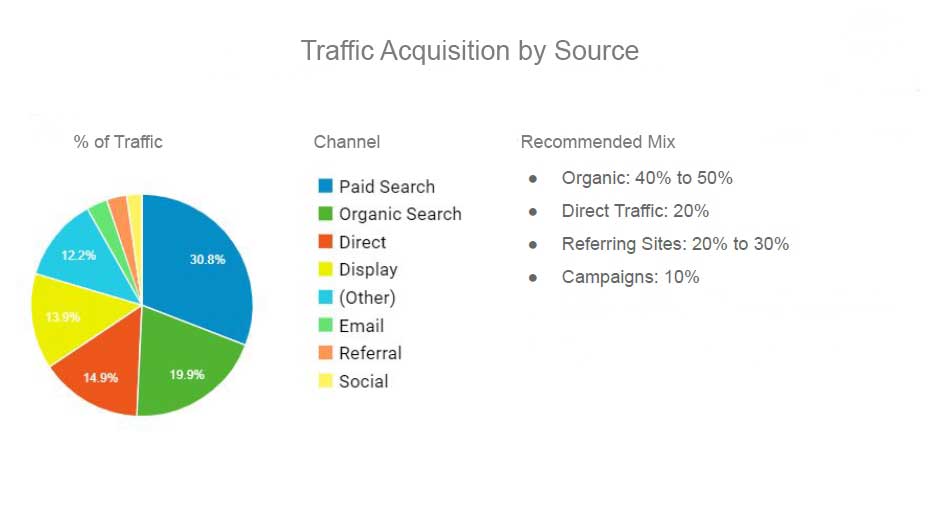 The Buying Funnel
One question I hear frequently is where within the funnel does a particular channel fall? Top, mid or bottom? This report does a great job of answering that question.
At the top of the funnel, we have Display Advertising. Then, Mid-funnel, organic and referrals, and the bottom, paid search, social networks, email, and direct.
This information helps a company understand the customer journey needed for creating full-funnel holistic campaigns that united tactics into a strategy.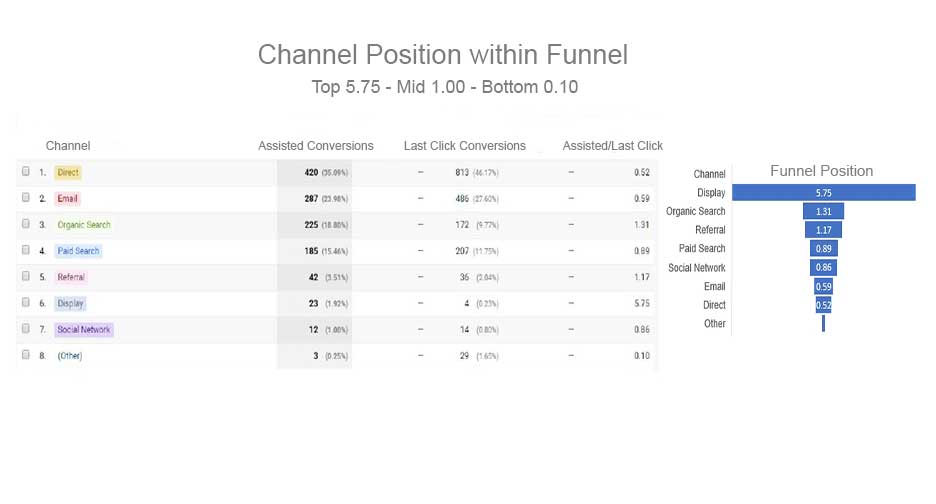 Recommendations
The following recommendations were extrapolated from the report and provided to Sr. Management;
Engage in search engine optimization to increase organic traffic to 40% to 50% of total monthly traffic
Engage in Content Marketing and create a brand voice and drive traffic to the site

This recommendation requires developing a Content Marketing plan
Social Media is used to test content ideas and for distribution acceleration

Engage in Social Media Marketing, especially on Instagram, to increase Health Mate's audience reach

This recommendation requires developing a Social Media Marketing plan

Create a holistic strategy that unites tactics and messaging to the customer journey

This is the ultimate goal but will not be possible until the Content Marketing plan is complete and content ideas are tested to find the best approach
Further development of the customer journey employing an analytics audit is recommended
A digital marketing measurement model will need to be created to enable multi-level, multi-channel success measurements

Without a measurement model, holistic digital marketing is not possible
Summary
Health Mate's Senior Management Team was presented this report via Zoom and quickly took action to implement all recommendations and are now gaining on the market leaders.