[vc_row][vc_column][vc_column_text]
The Company
Advanced FLOW Engineering is an American company that manufactures premium high-performance aftermarket parts for trucks, cars, and other off-road vehicles. aFe Power is a relatively new player in a very competitive market and working on establishing the brand on unique performance improvements.
Desired Outcome
aFe Power came to Brandastic interested in generating revenue using Paid Media advertising and needed help launching a profitable program. I managed and worked on this account myself, and with that goal in mind, I recommended a Facebook/Instagram advertisement campaign.
The Solution
Build brand awareness and vehicle-specific remarketing audiences for aFe's most popular vehicles using inexpensive vehicle-specific video campaigns on Facebook and Instagram.
User vehicle-specific remarketing audiences for email listing building offering discounts and a chance to win $500 in vehicle-specific credit in monthly drawings in exchange for signing up to an aFe VIP email list which is then used for email marketing.
Use vehicle-specific remarketing audiences for Facebook/Instagram advertising using carousel ads highlighting the best-selling products for each vehicle.
Advertisement Process Model
The Results
Brand Awareness & Audience Building
Using Facebook Video ThruPlays as a trigger, 25,028 people were added to the various vehicle-specific audiences for only .01 cents each, for a total spend of$271.84.


Email List Building Campaigns
Email lists were created using vehicle-specific remarketing audiences for $2.38 per person using Facebook/Instagram form-fill ads. The campaign also produced an amazing 1017% Return on Ad Spend by inviting people to check out all the cool parts for their vehicle on aFe Power's site after submission, and who can pass on that invite? With that in mind, we were feeding their best-performing channel for free and making a good profit doing so.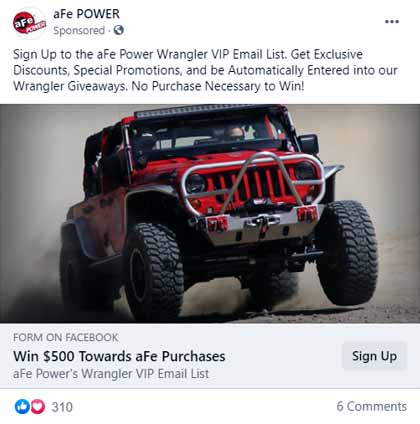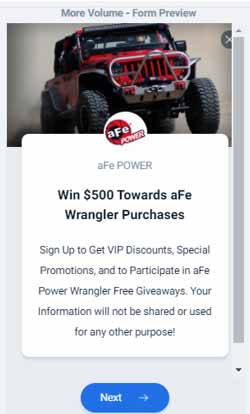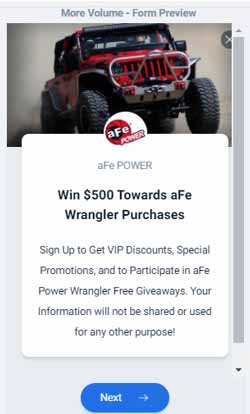 Carousel Ads
The Facebook Carousel ads produced an impressive 9834% Return on Ad Spend using the vehicle-specific remarketing audiences created for .01 cents per person. We used the best-selling products for the carousel ads, which resulted in high click-through and conversion rates.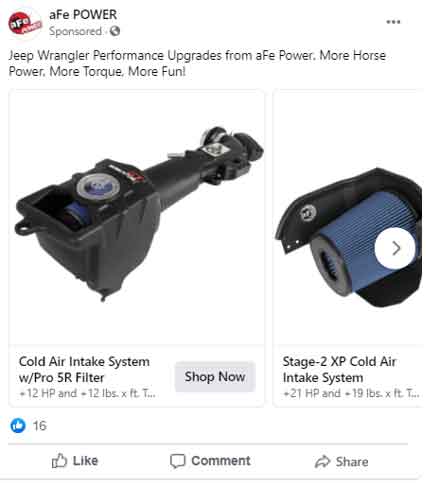 30-Day Total Returns
Between the Email list building and Carousel campaigns, the overall Return on Ad Spend for the entire Facebook/Instagram advertising initiative was an exceptional1901% Return on Ad Spend, which included free email addresses for aFe Power's best ROI email marketing campaigns. The company was so impressed that they launched video productions for additional vehicles to add to the campaign.
2020 Business of the Year
2020 for aFe Power was such a stellar year that they were named the 2020 Business of the Year by the Corona Chamber of Commerce! Congratulations aFe, and I'm glad I was able to contribute to the success!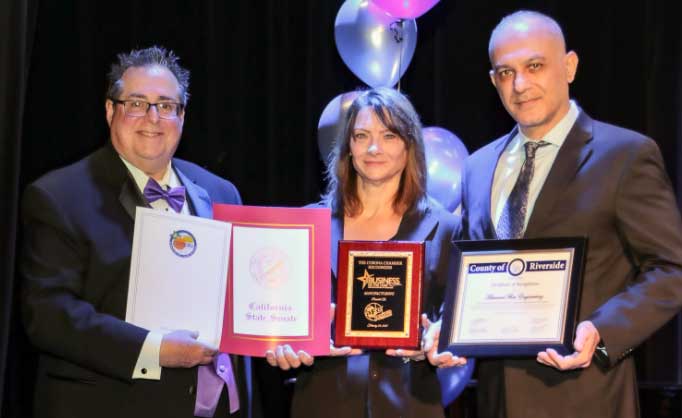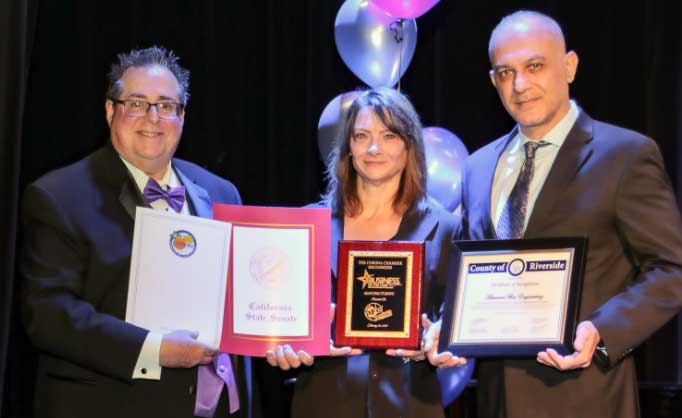 [/vc_column_text][/vc_column][/vc_row]